HARS - High value information Alert and Reporting System
<-- -->
Carjacked
The following story is a true, real-life, first-person account of a crime and how the bad-guy eluded capture. It illustrates how the lack of timely dissemination of information on the bad guy allowed him to remain at-large so long. There are lessons to be learned from this account and VitaStar Solutions is grateful to the person who lived this story, allowed us to write his story and permission to share it with others.
FORWARD
There are some events, so profound and unexpected that the senses require time to sort out the input and understand the experience. Without warning, a brilliant, jagged bolt of lightning can descend from the heavens to strike a nearby tree and cause a momentary loss of vision from its overpowering light, which lasts no more than an eye blink; and simultaneously, the eardrums could explode with a thundering, hammer-blow stronger than a drummer's over-enthusiastic thump of his foot on the bass drum pedal. Yet, would this be completely unexpected? After all, the black, ominous clouds should have provided a suggestion of possibilities. However, there are other events for which there are no advanced forewarnings, no indicators of possibilities and no opportunities to prepare for the unexpected, especially when a cataclysmic event suddenly explodes into your life.
THE STORY

It was a financial stretch, but my wife and I were now the proud owners of a beautiful, late model car, only a few years old. It had all the options and was in pristine condition, as if it had just been driven off the showroom floor. Since I'm accustomed to driving older cars and since I wanted my wife to enjoy something, which she never had before, she became the new, daily-driver of the beauty.
It was a normal day, just like so many others when my wife left her office, and drove to a nearby Taco Bell to get lunch, which she was going to take back to her office. As she approached her car, with her lunch in one hand and her car keys in the other, it happened.
In a far-away, rapidly approaching strange world, was a person whose mental facilities were severely impaired and all social values of normality eroded to the point of irrelevance. This person was of the drug world. He manufactured and distributed Methamphetamine, commonly called "Meth", a powerful and very addictive drug. If any outsider drug person tried to make an inroad to his territory, it is rumored that he would neutralize the potential competition with his threats and his knife – he was a knife man. On this particular day, he was driving his van, which was also his rolling Meth drug manufacturing laboratory. Everything was "normal" when suddenly, a motorist a few cars ahead of him, who was distracted by her cell-phone conversation, suddenly saw the red light obtrusively commanding her attention and with a lightening reaction she jammed on the brakes. The car behind didn't have time to react and slammed into the cell-phone car, as did the next car, as did the rolling Meth Van, each crashing into the car in front of them. Sudden panic and adrenaline catapulted the van driver into action – he cannot be found with the van, he must exit and escape as quickly as possible before the police arrived to investigate the accident. He reached for his assault rifle and wrapped it in an old shirt and quickly slinked away. He crossed the street and went into a McDonald's parking lot desperately looking for a get-away target, but saw no opportunities. Without hesitation he dashed across a side street into a Taco Bell parking lot, and it happened -- two drastically different worlds dramatically collided.
"Give me your keys", he demanded. She hesitated a moment, not focusing on a reality, which had nothing to do with tacos. Without saying another word he let the old shirt fall away revealing the AK-47 assault rifle, which was swinging its death-end toward her. She extended her hand with the keys and he took them. Pushing her aside, he jumped into the car, started the engine and hastily drove off down a side street. Another lady that was already in her car had witnessed everything and took off in pursuit – brave lady. She returned in only a few minutes and said she lost him.
It was only a matter of minutes and the police arrived to investigate the chain-reaction car crash and were quickly informed of the carjacking. Amazingly, the police were not able to apprehend the carjacker. It was as if he had suddenly vanished. Later, knowing how well he knew the town and that he knew many people of his world, it can be easily speculated that perhaps he found a quick hiding place for the vehicle and himself. In the parlance of TV detectives, the Perp had disappeared. It was later learned that he had quickly changed license plates and was driving the "beauty" on a daily basis.
It didn't take the police long to check the registration on the rolling Meth-lab. They went to the apparent owner and found that he had sold it to a second person, who when interviewed, said he sold it to a third person who was the Perp. The Perp was wanted by several municipalities, DEA, BTF, and the City Police who considered him armed and dangerous. He was registered in the National Crime Information Center (NCIC) database, which is used by Federal, State, and local law enforcement agencies and other criminal justice agencies. The Perp was also registered in the State Crime Information Center (SCIC) database. At the time, the State had an Internet most wanted listing for him for "Manufacture/Delivery and possession of Controlled Substances (2 counts)".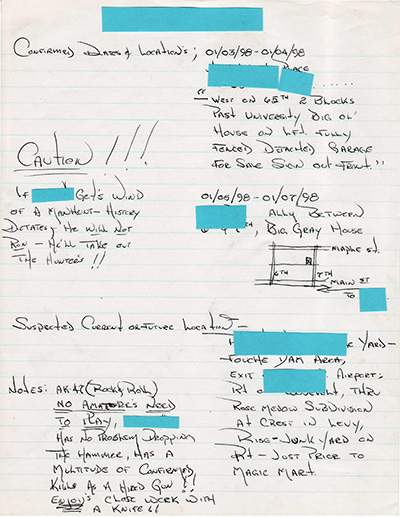 What to do? What can be done? What can I do? What will I do? I was victimized. My wife was victimized. The Perp had assaulted me and my values. Manhunt! I started a one-man, manhunt for the Perp. Why? What was my intent? One thing for sure. I was not going to hunt a drug-crazed Perp with a reputation for using his knife on the slightest provocation without protection. I must be able to defend myself and my 9mm semi-automatic handgun would be my companion on the manhunt. My intent was to locate the Perp and call in law enforcement for the apprehension. Thus started an usual odyssey, which I never would have imagined would be my mission.
I had the Perps name and started my manhunt by visiting various, local law enforcement agencies trying to solicit information and possible assistance. Everyone I talked to was helpful and knew of the Perp and acknowledged he was extremely dangerous and might react to being hunted.
One of my interests was riding a Harley Davidson motorcycle and because of this, I frequented a local "biker bar", particularly on Monday nights when all the biker clubs met for a friendly pool tournament. Occasionally, my wife would accompany me for the evening. Because I was frequently at this biker bar, both my wife and I were known to many of the bikers from different clubs, and I now sought their help for information on the Perp. It was my intent to use all the resources available to me, both in the law enforcement community and in the biker community.
During one pool tournament night, a biker friend asked me outside and told me I could potentially be in trouble. I asked why and he informed me that the person I was hunting was the cousin of the local, 1%er motorcycle club president and that I needed his permission to hunt. For me, I had no choice. I would not abandon the manhunt, so I would ask permission. I met with the person and asked permission, not knowing what would happen. The person told me, "Do what you gotta do", and thus I had permission to "take out" his cousin. I later learned that the Perp was considered out-of-control and a threat to all who knew him – he was bringing too much heat on people who didn't want the attention.
It was during another pool tournament night, a girl quietly came up to me and discreetly whispered for me to met her outside. She asked me not to tell anyone that she had talked to me and then told me the Perp was still driving my wife's car and she gave me an address where he was staying. The next day I investigated and learned he had been there and had left. After several of these near-encounters, I concluded I was two to four days behind him and that he was frequently changing his sleeping location.
One day, a male biker friend gave me a sheet of paper with some very detailed information about the Perp. The paper included several addresses where to look and various notes. One note read, "Has AK-47 and he has no problem dropping the hammer". Another read, "Has a multitude of confirmed kills as a hired gun! Enjoys close work with a knife". Still another note read that "if he gets wind of a manhunt, history dictates, he will not run – he'll take out the hunter". Perhaps the police had the same information, for while it was not specifically stated, there seemed to be a real reluctance for the police to aggressively pursue the Perp. The person who give me the information was a Vietnam Veteran and told me he would continue to give me information and that if I wanted, he would take him out, but he would only do it for money and if he did, it would be with a rifle, because he didn't want to get close to him. I thanked him for the information and told him that while I appreciated his offer for more information, I did not want him to take out the Perp. As a footnote, this Vet was occasionally the bouncer at the biker bar. Years later, after I had moved out of the area, I learned he had kicked out a troublemaker and that the person went home, got a gun, came back, and shot the Vet to death. He left a young, loving wife in mourning.
There are many strategies in conducting an effective manhunt and effectiveness is especially important when it is a one-on-one manhunt. A good wanted poster is a must. Getting the Perp's image out to key people and the public increases the reach of the manhunt and brings into play more eyes, which might recognize the Perp and make a critical phone call. I knew much about the Perp, but I needed good pictures – mug shots. I first went to the police but they only had poor quality pictures, that they had used to make their wanted poster, which was posted on the Internet. Even though the pictures were poor quality the police would not release them to me. Someone told me that they thought a local TV station might have once shown some pictures of the Perp. I went to the TV station and they searched their archives and found the pictures. They were classic, high quality mug-shot pictures, in color; one was a frontal picture and the other was a side profile picture. I'm not sure how they did it, but the pictures had been obtained from the County Detention Center, during an earlier booking. It is very important to note that these hi-quality mug shots were at the County Detention Center but were not available to the law enforcement community, in general, perhaps because they had never been requested or perhaps because there was no automatic distribution policy. Coincidently, several days earlier, I had been at the Detention Center seeking photos, but I did not get them because I was told it required filling out a form which needed higher-level signatures for authorization. Regardless, I now had these mug-shot pictures in my possession and they were prominently displayed in the center of my wanted poster.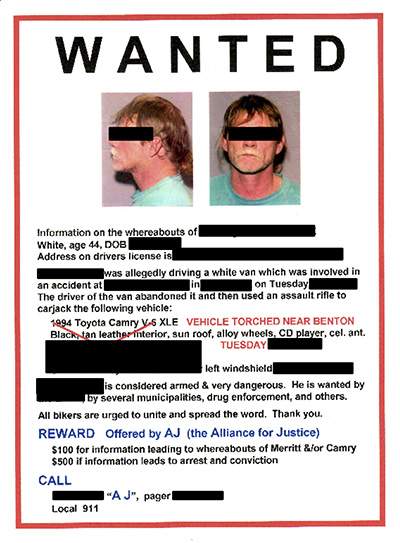 I distributed the wanted posters to both the law enforcement community and to the biker community, whenever and wherever the opportunity presented itself. Several times I was at a mall and went up to a lone police car and informed the officer of what I was doing and gave the officer several wanted posters. In each case, the police officer listened attentively and took the posters. Many were incredulous on the high quality color photographs and openly wondered where and how I got them since they were so much better than anything they had ever seen. On one occasion I was traveling in an unfamiliar part of town and stopped at an intersection, red traffic signal. While waiting for the light to change, I noticed about fifteen patrol cars, all parked at a single building. I was very curious and surmised that since it was lunch time, perhaps this was a police substation. Without thinking further about the possibilities, I pulled into the parking lot and parked between two police cruisers and went inside. Sure enough, inside was a large room with many desks and uniformed police officers having lunch. I asked to speak to the supervisor and was directed to the Sergeant-in-Charge. I explained my mission and asked if I could pass out wanted posters. He not only said yes, he invited me to speak to them – perhaps they needed some entertainment. There I was, in a police sub-station giving an extemporaneous briefing to about 20 police officers, and while I was speaking, I passed out copies of the wanted poster. When I had finished I went to thank the Police Sergeant and he asked me to wait a few minutes. He went to his telephone and I waited while he made several phone calls and had some brief conversations. When he returned, he explained that he had just talked to one of his stoolies and had gotten some information on the Perp, which he gave me – another address to be checked. Wow, why were they letting me continue on this manhunt and even helping me. Not once did they tell me I shouldn't be conducting a personal manhunt – very perplexing.
During my manhunt, I was in frequent contact with the city police Detective-in-Charge of the carjacking case. During one of our meetings he informed me that carjacking was a federal crime, but still, he was the city police point-of-contact. I didn't understand the relationship between the Feds and the city police, but the more law enforcement was involved the better it suited me. After one visit to the biker bar I was given some hot information on a location where the Perp was either at or would be at. I immediately went to the downtown police station to see the Detective-in-Charge. He was not in and instead, I was directed to his junior assistant. The junior assistant detective wanted me to give him the information, and at first I refused. I told him the location should be staked-out and put under surveillance. He was adamant that he would take care of it and he wanted the information. Ha! Perhaps he was on a quest for self-glory. I gave him the address and I left. I later learned that instead of staking-out the location he went to the front door and inquired if the Perp was there or where he might be. It was a stupid and dangerous act and I'll never again let some aggressive thinks-he-knows-it-all person con me out of what I think should be done. Perhaps the Perp was there or perhaps he would have been coming there, who knows? What was for certain, was that location was now burned.
I was worried and even had a bad foreboding. I was hunting a person who was known to be erratic and was an alleged killer. He knew who I was and he had my address from the registration in our beautiful vehicle. This caused me considerable apprehension and concern for the safety of my wife since she typically arrived home after work, in the dark. Many times I was not there, which meant and she was coming home to an empty house. I look back on this and feel bad I didn't exercise more caution to be sure I was always home when she got there. While not adequate, I gave her a 32 cal semi-auto handgun which she kept in the car and carried it, at the ready, when she arrived home and walked into the house.
During one of my repeat visits to nearby, small-town police station, I learned there had been an incident of a police, direct encounter with the Perp. It was about 2:30 AM and the female, rookie police officer was driving around her small town when she observed two individuals in a pickup, which was acting suspicious. She pulled the vehicle over and queried them on their activities. She ran a check on their names and didn't get back anything – the names/IDs where phony. She then asked them for permission to search the pickup and they answered, "Hell, no". She then let them go because she was outnumbered and their belligerent, hostile attitude caused her to be concerned for her safety. Two days later she saw my wanted poster, which a Deputy Sheriff showed her and she realized the passenger in the pickup was the Perp. It should be noted that since she was a police officer in a small town, the town police station did not have any data terminal connected to the State Crime Information Center (SCIC) and they had to rely on the County Sheriff to provide law enforcement information to them.
My efforts in the manhunt were framed with a daily anger, and I continued. One morning I went to a local town good-old-boy breakfast gathering at a vintage restaurant. I was considered an outsider, but had been introduced to the group several months ago through a friend, who was a "member". This restaurant was so informal that there were no servers in the morning, so you just went back into the kitchen and helped yourself to the prepared food, made out your own check and left the money on the counter on your way out. On this particular morning I had copies of the wanted poster with me so I briefed the group and passed them out. Recipients included retirees, local businessmen, and a county judge.
One day, during the late afternoon, I was returning home and was about to make a turn off a secondary road onto a feeder road, which would take me toward my house. Just as I started the turn I recognized a civilian car in a convenience store parking lot. I immediately changed directions and pulled into the parking lot next to the other vehicle. I walked over to the person behind the wheel and said hello. The person was a law enforcement officer who was also a biker and I knew him from the biker bar and the pool tournament nights. I was very surprised to see him, and he was just as surprised to see me. I quickly learned that he was on a stakeout on his own, personal time and he was staking out the road leading to the house of the girlfriend of… yes, that's right, the girlfriend of the Perp. Unbelievable, his girlfriend lived only a few blocks away from my home.
The manhunt had been in progress for about one month and during this time, all reports were that the Perp was still driving our dream car. A good motorcycle friend called me on the telephone and told he that when he got home there was a voice message on his telephone answering machine. The message was short and simple, "His problem with the car has been taken care of. It's not a problem anymore." The next day the police called me to tell me they think they have found my vehicle and told me where my torched, totally destroyed dream car could be found, now solemnly resting in a salvage yard.
In my entire life, I have never seen a torched, burned-up car so utterly and completely destroyed as our wonderful vehicle. After examining my car and purging my sorrow, I went to the police station and talked to the Detective-in-Charge. He told me what had happened. The Perp was driving fast on a country road and lost control on a curve and ended up in a field. He was stuck and couldn't get the car out. Realizing that passing vehicles had witnessed his wild ride to stuckdom, he knew he had to leave the area immediately, but first he focused on destroying the evidence. He opened the fuel cover, took off the gas cap and inserted a rolled-up paper into it. He then put a match to the paper and escaped, on-foot, into the surrounding woods. It was only a matter of seconds before the burning match had triggered an explosion and the gasoline-fueled fire turned the vehicle into a spectacular inferno. The police arrived and suspected it might be the wanted vehicle and quickly organized an on-foot, manhunt with negative results – too much time had passed.
Each day of stress and adrenaline led to the next. I was always running a little late to find the Perp, as he often spent only one night at a place, and never more than two or three days. This day was different. I received a call from the Detective-in-Charge who told me the Perp had been captured. From the police, I learned the name of the person who had reported the presence of the Perp in his house. A few days later I met the person at his house and learned what had happened. The person knew the Perp just well enough so the Perp came to him and told him he was going to sleep there. The person was afraid of the Perp and concerned for his safety. Because of his fear, he decided to call the police. It was mid-morning and the Perp was sleeping on the couch with his knife on the coffee table next to him and his leather coat over the back of the couch. Gathering all his courage, the person snuck out of his house while the Perp slept and went to a nearby neighborhood park for kids and called the police on his cell phone. The police told him to stay put and they'd meet him at the park. A few minutes later they arrived and hurriedly approached him and immediately stuck a poster in front of his face. "Is this the guy", they demanded to know. "Yes, that's him", he said. The police then called for back-up, which arrived in short-order, along with a police assault vehicle. They weren't taking any chances because they didn't know if the Perp had his AK-47, although the person said he had not seen it. At this point in the person's story I showed him my wanted poster and asked if this was what the police had showed him. "Yup, that's the same poster", he confirmed.
The person told me the police had stealthily approached his small house from the front and rear and simultaneously, on command, stormed through the front and back doors and grabbed the Perp as he was reaching for his knife. The Perp had been collared, captured and was in custody. I asked if there was any mention of a reward and he said no. My poster said I was offering a $100 reward for information leading to an apprehension and I gave him the $100. Weeks before I had asked the police about rewards. One person told me that up to $1,000 was possible and another person told me that up to $500 was possible. Later, I called the police about a reward for the person and found they were not very receptive. Still later, on a phone call from the person, I learned the city had given him a $200 reward, which did not come close to covering the damage the police caused storming into his house, smashing through the front and back door. Before I left the person's house he commented that the Perp's knife and leather jacket where still in his living room. He gave them to me because he didn't want them around. I kept the coat and weapon in a brown paper sack, but it was not an acceptable replacement for our car. My wife didn't want them around either so eventually, years later, they were consigned to the garbage.
I was now sleeping better and my wife was sleeping better than me. Another phone call from the city Detective-in-Charge and I learned of an arraignment for the Perp. I had the time and location and arrived early at the nearby, small-city courthouse and sat in the very back, against the wall and waited. Eventually the paddy wagons arrived and about ten prisoners, in orange jumpsuits, with handcuffs and leg shackles, shuffled into the court room and sat in the front row. I was the only spectator. Only one prisoner, the Perp, turned around in his seat to stare directly at me and held the stare for what seemed an awfully long time. Surely he didn't know who I was or why I was there, or did he? I pretended not to notice him and tried to appear disinterested, but I could clearly see his eyes. They were cold, penetrating and without emotion or life -- it was the stare of a dead man. The arraignment was quick and soon I was sitting alone in the court room.
Strangely and inexplicitly, the City Police did not call me again and I never knew the official charges or the court outcome. I don't understand why my wife was not called to be a witness to the armed carjacking. I don't know if there were only State charges or if the Federal authorities took charge of the case. Years later, long after I had moved out of the state, I called the City Police and asked if they could tell me the outcome. They could not find any records, but the Detective I was talking to clearly remembered the case and the Perp. He suggested I contact the State Department of Corrections, which I did on-line but was unable to locate the Perp. I next tried a search of the Federal Register of Inmates and found that he had served five years in a Federal prison and had been released.
Several weeks after the Perp had been arrested, at a lunch meeting in the State Capital cafeteria, the carjacking story was told to a State Representative, as a prelude to a verbal offer to prepare an unsolicited proposal to evaluate the effectiveness of information sharing between the different law enforcement agencies of the State with the objective to be more effective in the identification and apprehension of the criminally wanted persons in the State. He understood the objective but didn't agree with the need for a study because there was the Federal National Crime Information Center (NCIC) information network and the State had their own state-based similar system – SCIC. To some, the obvious remains elusive and can't be understood, even when it is explained to them. Good Grief!
VSS COMMENTS
There are unfortunate similarities between this story and stories from the wild west times. In the wild west, there were no telephones and teletype circuits were only between major cities. The lack of an effective communications system meant the bad-guys could hold up a bank in one county, ride like hell to escape, and go to a tavern in the next county, and spend all their bank-money on booze and honky-tonk girls – and they would be safe.
It is apparent that the lack of a system to timely and effectively share law enforcement information, and photographs specifically, is a significant impediment to apprehension of the bad-guys. It is also abundantly apparent that the public has a tremendous capacity to assist in the apprehension effort and that there is a common concern to get the bad-guys off the street – they are a menace and threat to all, even law-abiding bikers.
The use of photographic information is essential in the apprehension efforts and is very important to the safety of law enforcement officers.
There seems to be an in-congruency between the Perps crimes and the time he spend behind bars. It raises many questions which remain unanswered.
Two conclusions are salient. The first is that timely dissemination of information is critical in law enforcement. The second is that the power of the public remains largely untapped and is a sleeping "sixth man" waiting to be brought into the law enforcement process.